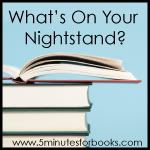 It is time for the monthly What's on my Nightstand post hosted by 5 minutes for books.
It was a good month for reading. I read most of the books on my list and added a few others. Here is the list of what I read last month:
Around the World in 80 Days by Jules Verne (My Review)
Weekend Makeover by Don Aslett
The Sparrow by Mary Doria Russell
Beauty by Robin McKinley
The Door in the Hedge by Robin McKinley
Michal by Jill Eileen Smith
Blog Blazers by Stephane Grenier
The Hunger Games by Suzanne Collins
Take One by Karen Kingsbury (My Review)
The Noticer by Andy Andrews (My Review)
On my nightstand for next month:
The Great Gatsby by F. Scott Fitzgerald (for Classics Bookclub)
The Prayer Chest by August Gold and Joel Fotinos
Inside the Revolution by Joel C. Rosenberg
Children of God by Mary Doria Russell
Ulterior Motives by Mark Andrew Olsen
Boneman's Daughters by Ted Dekker
Tenth Stone by Bodie & Brock Thoene
Little League starts this Saturday and both of my children are playing. Maybe I can read between innings. Maybe I just won't sleep. Anyway, it should be a busy but enjoyable month.