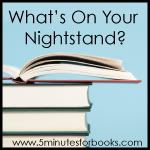 It is time once again for What's On Your Nightstand hosted by 5 Minutes for Books.
I was only able to read 3 books last month:
The Great Eight by Scott Hamilton (My Review)
Luke's Story by Tim LaHaye and Jerry Jenkins
The Shack by William P. Young (My Review)
I am currently reading:
Weekend Makeover by Don Aslett
Around the World in 80 Days by Jules Verne
I have a lot of books on my nightstand that I hope to get to this month. With spring break coming up, I am not sure how much reading time I will have. So, here goes:
The Sparrow by Mary Doria Russell
The Prayer Chest by August Gold and Joel Fotinos
Beauty by Robin McKinley
The Door in the Hedge by Robin McKinley
Inside the Revolution by Joel C. Rosenberg
Blog Blazers by Stephane Grenier
The Huffington Post Complete Guide to Blogging
The Hunger Games by Suzanne Collins
Take One by Karen Kingsbury
Now I can go see what other bloggers have on their nightstands and I am sure that my list will grow and grow and grow.