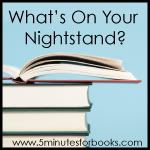 It is time once again for What's On Your Nightstand hosted by 5 Minutes for Books. I only read 3 books this month.
The following books are on my nightstand for January:
Hamlet by William Shakespeare
House of Dark Shadows by Robert Liparulo
Warriors: Into the Wild by Erin Hunter
Eighth Shephard by Bodie Thoene
Kiss by Ted Dekker
High Calling by Evelyn Husband with Donna Vanliere
Can't Wait to Get to Heaven by Fannie Flagg
A Redbird Christmas by Fannie Flagg
The weather forecast is for a very cold and snowy January. That means lots more time for reading!