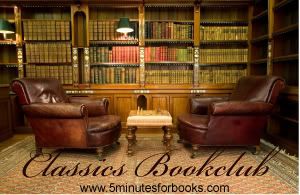 This is my first time to participate in 5 Minutes for Books Classics Bookclub. This months selection was A Christmas Carol by Charles Dickens.
This was my first time to read this classic story. I have seen many movie and tv versions of it from the very serious to the very whimsical (Scooby-Doo). None of them do the story justice. I found that even though I knew the basics of the story, there was much that I didn't know.
I enjoyed the humor that was sprinkled throughout. I enjoyed Scrooge's nephew Fred. What a jovial fellow! I wish that I would always have that welcoming attitude when dealing with difficult people. I also enjoyed the character of Fezziwig. Fezziwig's party was a good example of how to keep your employees happy. Scrooge should have learned more from Fezziwig about how to treat employees.
I felt that the Cratchit family seemed more like caricatures than real people in the present scenes. I felt like their joy in the small goose was too forced. Like they were pretending to be happy but inside were miserable. And that is how we would expect someone in their situation to be. In the future scene, they seemed more real. The sadness and grieving at Tiny Tim's death seemed more real to me.
Finally Scrooge himself. I thought his transformation from selfish miser to generous, happy gentleman was well written. He changes a little bit with each scene and by the end embraces the changes he needs to make. I love the scene on the morning after Christmas when Cratchit is late. I can just picture him waiting in his office trying not to giggle with anticipation of what he is going to do for his employee.
Overall, I am glad that I read this book. I will certainly read it again and again.